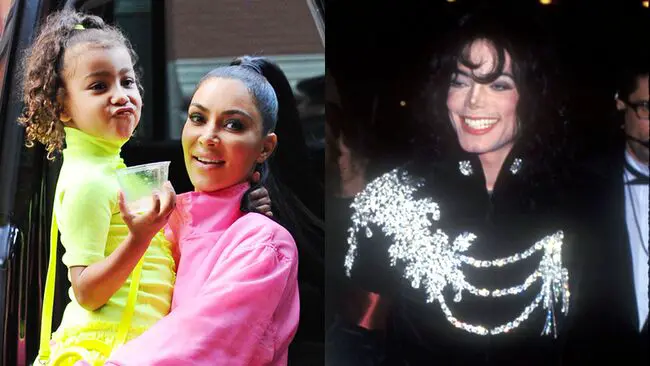 Kim Kardashian has fans livid about the costly Christmas present she bought for daughter North West.
The reality star is known for shelling out racks of money for her children, and so it only seemed par for the course that Kim would do plenty of splurging on her kids this Xmas. However, followers were truly astonished when the beauty businesswoman revealed she gifted her 6-year-old a prized possession once owned by the late Michael Jackson.
According to Buzzfeed, Kim reportedly spent $65,000 for the black, blinged-out velvet jacket previously worn by the King of Pop himself. "So we won this on an auction for Northie for Christmas and we had it tacked up so she can wear it," Kim revealed on IG along with proof of purchase (i.e., the literal jacket itself). "The sleeves are half-tacked up so when she gets older, we can un-tack the sleeve and it can grow with her, so she can have this for her whole life."
The garment was apparently auctioned off via Julien's Auctions, who appraised the iconic memorabilia at $10,000-20,000. As fans will recall, MJ famously donned the garment at Elizabeth Taylor's 65th birthday bash in 1997 and again at the 50th Cannes Film Festival.
While the mommy of four said her oldest daughter was "so grateful and excited" about her gift, fans wasted no time to express their disappointment about Kim spending so much money on a child.
"I don't care how much Kim Kardashian loves Michael Jackson, she bought his jacket for her f—ing child to wear it. They don't know the real value of these memorabilia," one user tweeted, as another added: "the fact that kim kardashian got her young a— daughter a real michael jackson jacket…. like does she even realize the importance?"
See more critical tweets below.