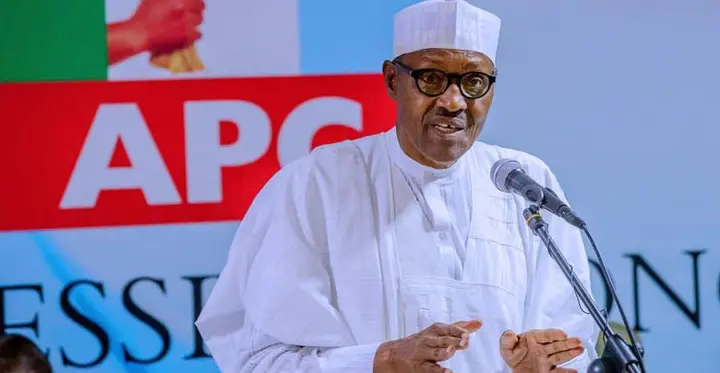 President Muhammadu Buhari has annouced his redrawal from all future elections after he steps down in 2023.
This was contained in his new year message to Nigeria on wednesday. He said, "I will be standing down in 2023 and will not be available in any future elections.
He however reiterated his stand on conducting a free, fair and peaceful elections before stepping down as president: "I am determined to help strengthen the electoral process both in Nigeria and across the region, where several ECOWAS members go to the polls this year."
On the closure of land borders, the president voiced his government stance on it until necessary safeguards were put in place.
He stressed the importance of the country's economic plans which should not be sabotaged by it's neighbours.
"The joint land border security exercise currently taking place is meant to safeguard Nigeria's economy and security. No one can doubt that we have been good neighbours and good citizens.
"We have been the helpers and shock- absorbers of the sub-region but we cannot allow our well-planned economic regeneration plans to be sabotaged. As soon as we are satisfied that the safeguards are adequate, normal cross-border movements will be resumed."
On the issue of power failure, the President promised drastic reforms which would be put in place soon to tackle it.
Buhari stated: "Power has been a problem for a generation. We know we need to pick up the pace of progress. We have solutions to help separate parts of the value chain to work better together. In the past few months, we have engaged extensively with stakeholders to develop a series of comprehensive solutions to improve the reliability and availability of electricity across the country.
"These solutions include ensuring fiscal sustainability for the sector, increasing both government and private sector investments in the power transmission and distribution segments, improving payment transparency through the deployment of smart meters and ensuring regulatory actions maximise service delivery.
"We have in place a new deal with Siemens, supported by the German government after German Chancellor Angela Merkel visited us in Abuja, to invest in new capacity for generation, transmission and distribution.
"These projects will be under close scrutiny and transparency, there will be no more extravagant claims that end only in waste, theft and mismanagement.
"The next 12 months will witness the gradual implementation of these actions, after which Nigerians can expect to see significant improvement in electricity service supply reliability and delivery.
On the issue of corruption inwhich he rode to power with, President Buhari assured of his unrelentless effort towards tackling it.
"They can also be certain of our unshakeable commitment to tackle corruption.
"As we create an environment that allows initiative, enterprise and hard work to thrive, it is more important than ever to call out those who find the rule of law an inconvenience, or independent regulation an irritation.
"We are doing our part here in Nigeria. We will continue to press our partners abroad to help with the supply side of corruption and have received some encouragement. We expect more funds stolen in the past to be returned to us and they will be ploughed back into development with all due transparency.
On the the issue of the rule of law inwhich he has been accused of gross disobedience to, the president said his government would always engage all well-meaning leaders and citizens of goodwill to promote dialogue, partnership and understanding.
He listed several of his achievements and consequently revealed that all these projects will positively impact business operations in the country.
The president labeled the next 10 years coming as the Nigerian Decade of prosperity and promise for Nigeria and for Africa.