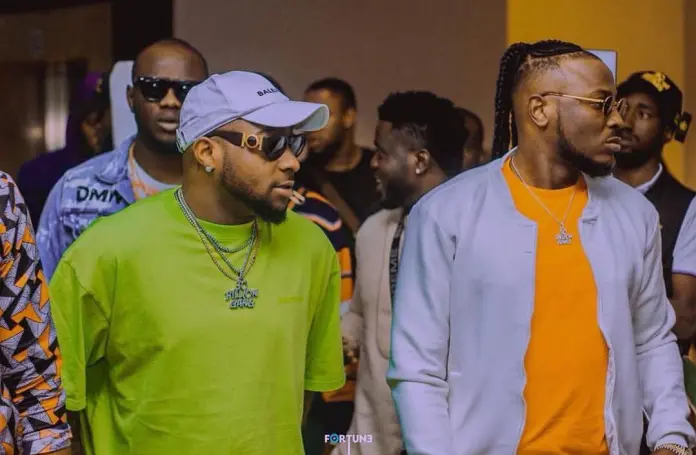 Davido ready to do away with Peruzzi – See Why
There's a popular saying that says, 'evil communication corrupt good manners'. should we say that this is the case of Tobechukwu Victor Okoh with the stage name Peruzzi and his boss David Adeleke better known as Davido.
When Peruzzi was first introduced to the Nigeria music industry, he got lots of love and support from music lovers, especially since he is under the umbrella of one of Nigerians favorite music maker Davido, from 'Amaka' which he did with legendary singer Tubaba to 'Majesty' and many more, he gradually gained his way to the Nigeria music market.
No doubt Peruzzi is a great singer, songwriter and performer but there seems to be more to his kind of person, than just his talent and career.
Things came up
Following up on this one was "Chioma Slept With Peruzzi And Many Other Men" – Kemi Olunloyo Makes Repulsive Revelation about Peruzzi and Davido baby mama Chioma
the media was about to relax and perhaps get more great sound from Peruzzi, he has been called out, and this time it is by a UK based artists.
On January 30th 2020, a UK-Based singer Daffy Blanco accused Peruzzi of rape after she paid him 10m to write songs for him.
Daffy claimed she gave Peruzzi 10m Naira to do songs for her after a bank CEO spoke highly of him but instead of him to deliver, he raped her . she further published her evidence where Peruzzi was allegedly begging her to forgive him.
Perruzi or his boss Davido has replied or responded to her claims. Insiders are saying that Davido is highly angry and disappointed in Peruzzi if the claims of Daffy Blanco is anything close to being true.
Davido is really not happy, you can take this to the bank, he is seriously frowning at
Peruzzi for constantly going to the news for one bad reason or the other.
Last month recall that news went round Nigeria and more that Peruzzi was the preson who introduced Chioma to Davido and wrote some of his hit tracks like, Fire, Assurance and more.
We hope to bring you more details